Perhaps the biggest savings account news this week, apart from the rates being announced for the forthcoming Pensioner Bonds, has been the continuation of the tussle at the top of the notice account best buy table, as Secure Trust replaced Shawbrook Bank for the second time in recent weeks writes Savings Champion's Anna Bowes .
We shall wait and see if Shawbrook choose to rise to the challenge again. Meanwhile, we have also seen a couple of lesser known providers making a noise in the savings market with some reasonably competitive launches, along with the usual replacement of competitive products with lower paying versions.
SavingsChampion Index
The SavingsChampion.co.uk Savings Index looks at the top 5 best buy easy access accounts. Overall it paints a pretty gloomy picture over the last few years, as rates came tumbling down, but at least there does seem to be a stabilising of the average rate over recent times. Whilst it is good news that rates do not seem to be falling as rapidly, an upturn in the average is long overdue.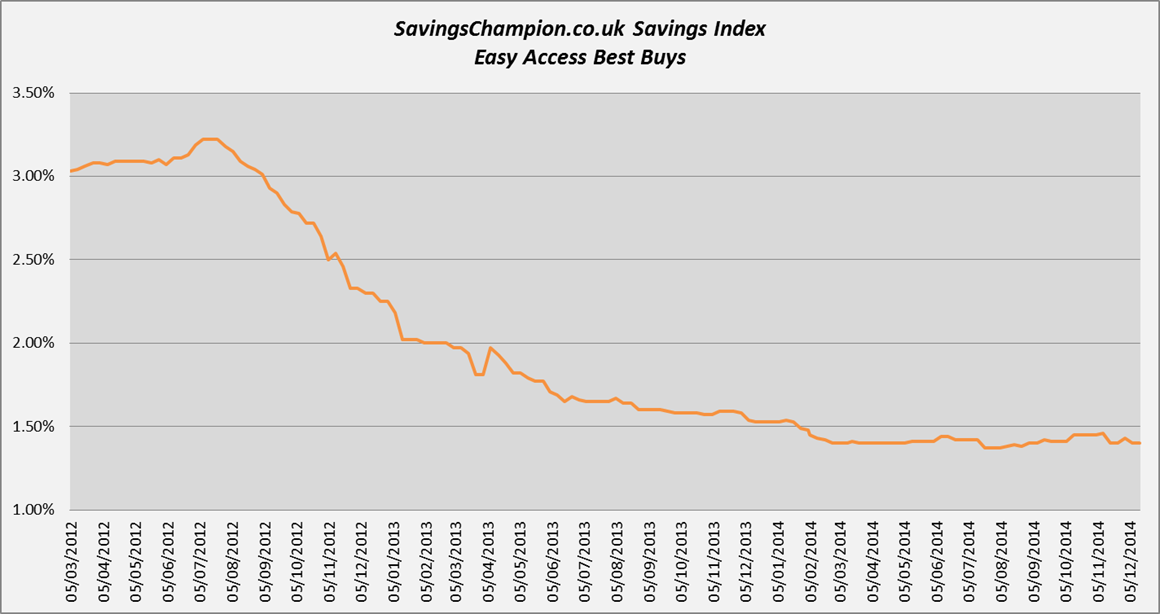 Rates News
Confirmed in a statement at 4pm last Friday, NS&I will launch two bonds, 1 year and 3 year paying 2.80% AER and 4.00% AER respectively. They are available on a minimum of £500, up to a maximum of £10,000 per bond, per person, however investors can hold bonds jointly so a couple could hold up to £40,000 jointly.
These rates are currently way over and above the current best rates on the market and in fact pay 51% more than the average of the top 5 one year, and 61% more than the average of the top 5 three year fixed rates.
Secure Trust Bank has withdrawn its 120 Day Notice Account paying 1.80% gross/1.81% AER and replaced it the next day with a new version paying a higher interest rate of 1.90% gross/1.91% AER.
This account replaced the market leader from Shawbrook (1.85%) in a mirror of events in late November/early December. The question is; will Shawbrook respond a second time?
Secure Trust Bank has also launched a market leading 2 year fixed rate bond paying 2.33%. At last, a provider beating Punjab National Bank (2.30%), who have been dominating the fixed rate bond best buy tables in recent times.
Also new from Secure Trust Bank is a 3 Year Fixed Rate Bond paying 2.51% gross/AER. The account is paying a slightly higher interest rate then Shawbrook Bank, which was the next best 3 Year Bond after Punjab National Bank (2.55%).
This week has also seen some lesser known providers announce themselves to the savings market with some reasonably competitive new releases.
Hampshire Trust Bank released its 120 Day Notice Account Issue 1 paying 1.75% and increased the rate on its 90 Day Notice Account Issue 5, from 1.10% to 1.60%.
Harrods Bank has also launched some new accounts. There is a 1 year fixed rate bond paying 1.75%, a 2 year bond paying 2%, a 3 year bond paying 2.20% and a 5 year bond paying 2.75%. Also launched was a new 120 day notice account paying 1.45%.
These rates are not market leading, so are hardly going to set the world alight, but they are sitting with the second group, behind the market leaders. Maybe both of these providers are dipping their toes in the savings market and they may follow them up with some better rates in the future.
There have also been some more examples of competitive rates being withdrawn and replaced with inferior versions.
Aldermore has reduced the rates on the 2 and 5 Year Fixed Rate Bonds, for new accounts opened. The 2 Year Fixed Rate Bond was previously 2.15% and has decreased to 2%.The 5 Year Fixed Rate Bond was previously 3% and the replacement product is 2.90%.
The 5 year bond was one of the highest paying on the market, so we can only presume that either demand was too high or the provider felt that they no longer needed to offer one of the top rates to attract the funds that they need.
ICICI Bank has launched new versions of its fixed rate accounts. The 1 year account is paying 1.85% (was 1.60%), the 2 year is 1.90% (was 2.05%), the 3 year is 2.10% (was 2.40%) and the 5 year account is 2.30% (was 2.50%).
Uncompetitive rates apart from the 1 year, which was increased and now sits with FirstSave as the next best after Punjab (2%). The 3 year bond was one of the best on the market for those looking for a monthly income for the term, but it certainly is not now.
Meanwhile, one of the biggest savings providers seems to have judged that offering uncompetitive rates on its ISAs is not enough and has made them even worse.
Halifax has reduced the rates on its 1, 2, 3 and 5 Year Fixed Rate ISAs, for new accounts opened. The 1 Year is now 1.40% (previously 1.55%), the 2 Year is 1.60% (1.80%), the 3 Year is 1.75% (2%) and the 5 Year is 2% (2.20%).
The provider has also launched new versions of its ISA Saver Online and ISA Saver Variable. The ISA Saver Online is now 1.05% with a 0.80% 12 month bonus (previously 1.25% with a 1% bonus) and  the ISA Saver Variable is 1% with a 0.50% 12 month bonus (previously 1.20% with a 0.70% bonus).
The table shows the average rate for accounts available to open at the moment.
When you look at the difference between these average rates and the best deals available, you can be sure that there are some low rates being offered on the market at the moment. The providers that offer these poor returns must be avoided at all costs! Our unbiased and hand-picked best buy tables offer alternatives and savers should vote with their feet, forcing uncompetitive providers to up their game.
The only upward change this week has been to the Notice Account average, surely affected by the new market leading rate from Secure Trust Bank. All other changes have been in the wrong direction, including 3 and 5 year bonds and fixed rate ISAs and the variable rate ISA average.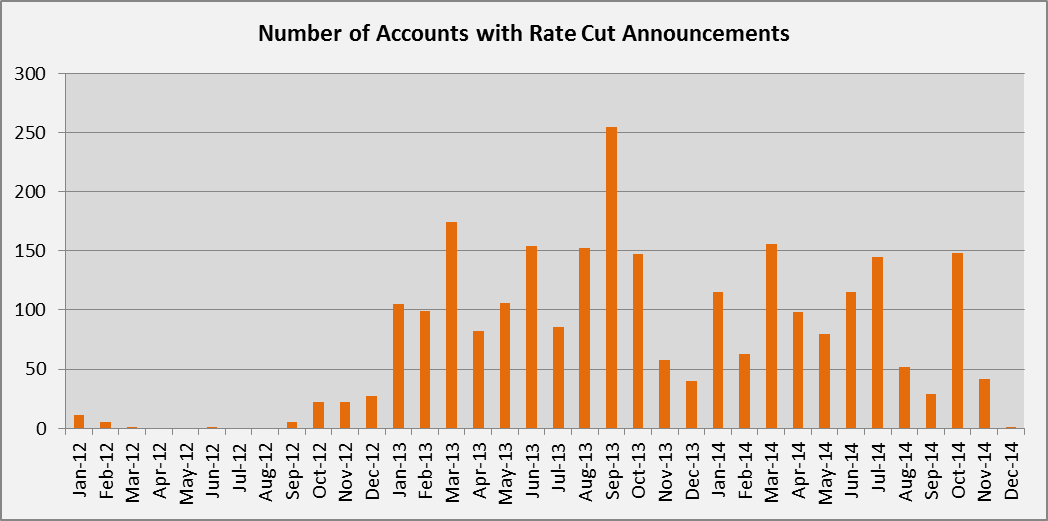 The table above shows how many savings accounts have seen rate cuts for existing account holders each month. As you can see, things really kicked off not long after Funding for Lending was introduced in August 2012 and has been continuing ever since. After a much higher number of cuts in October, November was a slightly quieter month for reductions. So far in December there has been an unusally small number of cuts, but before we read too much into it, some announcements have already been made for January and February 2015, so those hoping for reprieve from the cuts next year may be disappointed.